Tonik may be new to the distilling world, but the families who started the company are certainly not. Brothers Rick & Randy Nixon have distilling in their blood. Nixon's great grandfather spent the early 1920's running rum distilled by his family to the thirsty people across the borders of Montana. Add to the party master distiller Robert G, whose great grandfather spent his entire life crafting award-winning wine in Italy, and you've got yourself a wealth of knowledge that money can't buy. Together we crafted a brand inspired by prohibition-era tonics and liquor, bringing that wit and character into a modernly relevant product line.
Pulling from the family's history in prohibition distilling, I created an extensive suite of typographic marks and illustrations, all inspired by the styling of that period while making sure to maintain a modern relevance so the brand didn't feel dated. While the two founding families didn't know each other during prohibition time, we decided it would be more interesting and engaging to imagine a timeline where they did. So alongside the team, I crafted a story where Great Grandpa Nixon met Great Grandpa Givelle, and they started a distilling revolution together. This story made for the perfect foundation to build a tongue-in-cheek brand feel that would instantly make Tonik stand out.
WE PRESENT YOUR MIRACLE CURE
Inspired by the "Miracle Tonics" and high-proof liquor of the prohibition era, the brand suite consists of many marks that pay tribute to an old-world style while having a modern sensibility. Just like the cheeky sayings that would populate these "Cure-All" potions and tonics sold door to door, the illustrations and logomarks are accompanied by exaggerated claims and remedies like "Sent From the Heavens" and "Your Miracle Cure." Blending this tongue-in-cheek sarcasm with the beautiful typography and illustration style of this era creates a highly unique brand look & voice. The perfect balance of fun and class.
The prohibition era was the birthplace of many distinct styles, so I wanted to develop a few different stylings for the main logomarks. Each core logomark features three separately styled versions that all have a unique look and feel. This allows for marks to be swapped out and provides a fresh vibe without losing their recognition.
OLD WORLD INSPIRED STORYTELLING
To give a better overview of the brand story we wanted to tell while also showcasing some of the company's unique traits, I created a system of old-world-inspired stamps and illustrations. These stamps were designed to be paired together or used independently to convey brand attributes while still being fun and beautiful.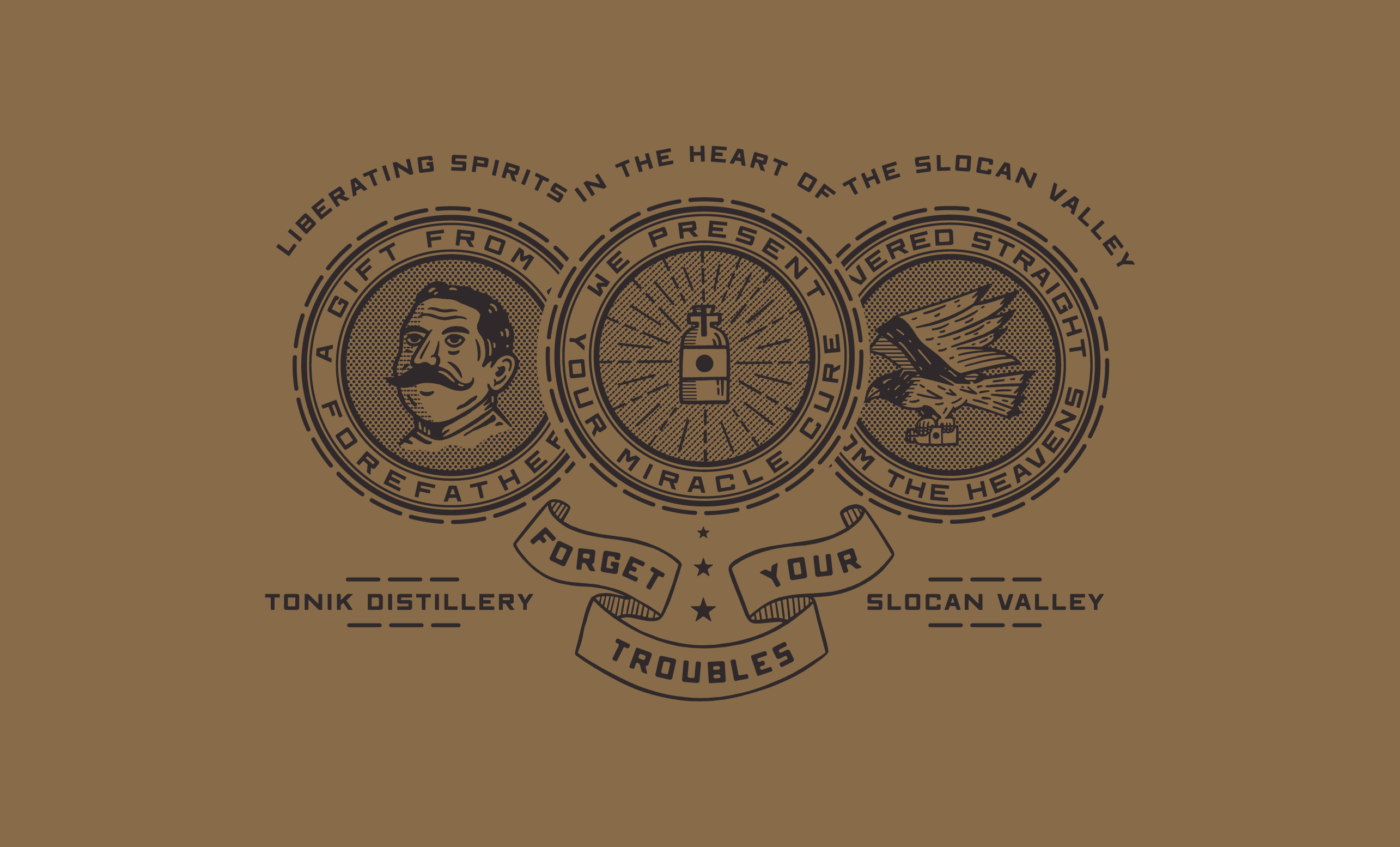 BREAKING THE VODKA SODA MOLD
The vodka soda market is flooded with white cans that all look the same, use the same styling, and, to be honest, lack a lot of soul. My goal with the Tonik vodka soda line was to use the brand story to our advantage and embed character into the cans that would stand out on store shelves. The voicing mixed with the unique styling made for a beautiful toolkit to create something exceptional in the space.

To further integrate the "Cure-All" tonic impression, each Tonik product is equipped with a "Possible Remedies" banner designed to give people a chuckle and promote a relaxed vibe and spirit.
While the goal with the Vodka Soda lineup was to bring life, energy, and wit to that space, Legacy Vodka's main goal was to promote its class and clarity. We wanted to make sure the bottles looked clean and gave a beautiful introduction to the brand to build awareness in the market. Expanding the style that I established with the vodka sodas, I created a label that uses the clarity of the liquid to its advantage while looking extremely classy.
When we set out to find the right designer for our new venture, Zach Silver was referred to us by a close friend who had seen his work at The Firehall in Cranbrook. After conducting our due diligence among the selected firms, we decided to give Reflect Design an opportunity to show us what we can expect. We made the right choice! We were immediately impressed. He was able to take our vision and bring it to a whole new level. We continue to use his services and would highly recommend his firm if you are looking to stand out from the crowd. His easy going professionalism and seasoned eye make our design decisions a breeze.
"When we set out to find the right designer for our new venture, Zach Silver was referred to us by a close friend who had seen his work at The Firehall in Cranbrook. After conducting our due diligence among the selected firms, we decided to give Reflect Design an opportunity to show us what we can expect. We made the right choice! We were immediately impressed. He was able to take our vision and bring it to a whole new level. We continue to use his services and would highly recommend his firm if you are looking to stand out from the crowd. His easy going professionalism and seasoned eye make our design decisions a breeze."