Hang Time is an online entertainment brand revolutionizing the Live Content Creation Space. While video games are a massive part of the Hang Time crew's passion, their content is so much bigger than that. Whether it's a road trip across the country or a cooking competition with your favourite industry personalities, Hang Time has no limits. Whatever they're up to – you can guarantee they'll be tons of energy and laughs.
The Hang Time crew came to us looking for a visual toolkit that fused 90s Teenage Angst with a graphic and iconic look their community could get behind. The result is a brand kit oozing with nostalgic illustrations, bold lettering and searing colours that might just make your eyes bleed, but like, in a good way….
Picture this. You're 16, and Mr. Markus is giving one of his lectures that no one can possibly stay awake for, so you're gazing off at the clock – dreaming of the moment you can bolt home, grab your skateboard and meet up with your pals for a night full of shenanigans. Now, just as your eyelids start to lean into full "nap mode," a portal appears – out pops a Hot Pink Hand – it gives you a throws up a Shaka, and you're sucked into the portal. You pop out the other side in an alternate reality where every hour is Friday Night – the party never stops, the soda keeps on flowing, and you're surrounded by your favourite people doing your favourite things. Kinda sounds like one of those direct-to-VHS movies you and your buddies would watch on a Friday night in High School, right?. This is Hangtime's brand Ethos, and the Shaka Portal is its call sign.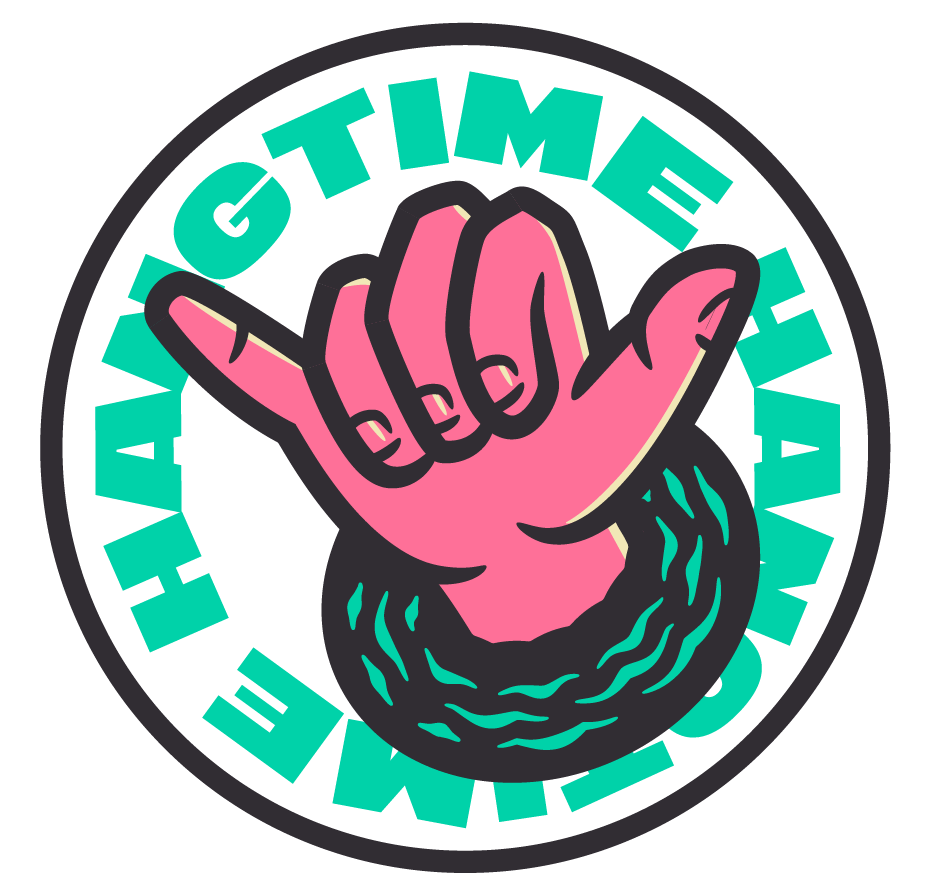 HangTime's fully custom display font is inspired by the terrible graffiti inside High School Bath Room stalls, the irreplaceable vibe of punk show posters – and the 90s moto-cross graphics that we all secretly love. Inconsistent letter sizing & intentionally bad kerning, we're all intentional choices to bring this brand to a place where it felt approachable and authentic. To complete the Hangtime universe, we illustrated and animated a slew of rad iconic objects, activities and snacks to sell that "Friday Night All Nighter" vibe.